Dr. Balasubramaniam (Balu)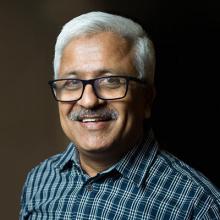 Member-Human Resource
Dr. R Balasubramaniam (Balu) is a widely respected development expert, public policy analyst, leadership trainer and author. He has spent several decades living and working among forest based tribal communities in the southern Indian district of Mysore.
He founded the Swami Vivekananda Youth Movement, a renowned development organization and is also the founder of Grassroots Research and Advocacy Movement, a public policy think tank.
Dr. Balu is currently a visiting professor at Cornell University, USA and at IIT-Delhi, India. He also coaches and mentors senior leaders in the non-profit, corporate, government and educational sectors. His books 'i, the Citizen', 'Voices from the Grassroots' and 'Leadership lessons for Daily Living' are globally acclaimed.
After his MBBS, he earned his MPhil in Hospital Administration & Health Systems Management from BITS, Pilani. He has a Master's in Public Administration from the Harvard Kennedy School, Harvard University.